Your time to lead
Apply to be a Resident Assistant or CommUNITY Educator. Positions available for Spring Semester 2022 and the 2022-23 Academic Year.
Apply for Housing
We're taking applications for students beginning at IU this Spring Semester and opening 2022-23 academic year applications for current RPS residents. Applications will open for other IUB students in January, 2022. New students admitted for Fall 2022 may begin an application in February, 2022.
Register your overnight guests
Your overnight guests are again welcome in the residence halls, but you MUST register them so we know who's supposed to be around.
Before you invite all your "besties" from home, remember,
if you have roommates or suite mates, they must be okay with you having overnight guests
the limit is 2  overnight guests at a time
your are responsible for the behavior of your guests
bathroom gender designations do apply – in other words, your boyfriend cannot use the women's bathroom you're assigned to
university masking policies apply to all guests
Learn more about the rules pertaining to overnight guests in the Residence Hall Rules and Regulations.
Notice:
Masks are required.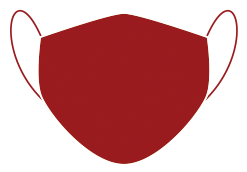 Wear it, so we don't share it.
Visit our IU Dining partners
Click below for all dining information and resources.
From the moment I first set foot on IU's campus, I knew this was where I needed to be. Since moving into my residence hall, I've made so many new friends and have grown immensely as an individual.

Natalia J.